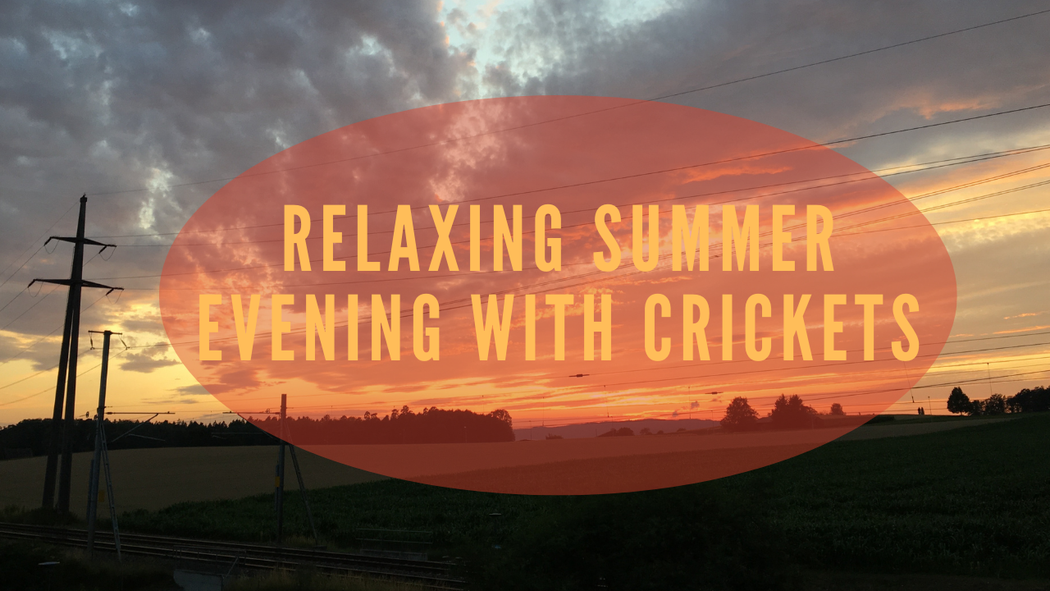 Hi
I'm Veronica 🙋🏻
 A vivid Human Being.
Devoted Inner Explorer & Artist.
And Founder of the online self-exploration school
E-SCHOOL - The Journey to your Inner Self.
Traveling, researching and chartering the Inner World is what I do. 
I am soo fascinated, almost obsessed (and sometimes 😩😭😱😤) by human behaviour
that I am constantly observing, researching and analyzing
the different structures and mechanisms we humans choose -
and therefore, from time to time chilling and really doing nothing is sooo fundamental.
So, in this video, you and I are going to enjoy a wonderful warm summer evening -
and just chilling together for good two hours.
Two hours of a spectacular summer sunset with the heartwarming sounds of crickets and chirping birds
- aah, that sounds like paradise actually! 🌅 
As this is an ASMR video 🎙, I highly recommend to put your headphones on 🤗
And choose a comfy place to be. If possible lay down, so that your body can fully relax.
And in the meantime, may you enjoy the sounds of nature in full summer
😊
By the way, this video was born while me lying in bed with a tremendous flu/bronchitis and sooo suffering with the freaking cold and foggy winter weather here in Switzerland. I mean, who the heck invented winter anyways?! 😫. 
And because the struggle was really real here 🤒😷😪 - I was feverish, coughing like an old car and sweating like a teabag 🤒😷💦 - and no button was to be found in my home that would actually make disappear all of my misery (flu AND unfriendly season), I took matters into my own hands and brought summer into my home - by creating this wonderful summer evening video which immediately catapulted me into SUCH A BETTER state of being. The absolutely fantastic sunset 🌅 - to be exact, it was the evening of July 2019 - with those wonderful crickets and chirping birds.... aaaah, my, do I long for the warmer season of the year! 🌞🌳🌺
With this new video my misery was indeed reduced to a more manageable level - and oh my, did I sleep deep and sound the next days. And may you also have a wonderful relaxing siesta!
Enjoy two hours of a spectacular summer sunset
with the heartwarming sounds of crickets and chirping birds 🌅 
🤗
The best way to enjoy and actually get the full benefits from this video is
° to sit comfortably
° if possible put on your headphones
° and to allow yourself to just be with the ASMR quality of the video 
And yes,
° having a happy face
° feeling relaxed
° dreaming away and/or
° falling asleep
are the side effects
🤗
---
REMEMBER
You're absolutely one of kind. There is no other like you in the entire Universe.
So your uniqueness NEEDS absolutely nurturing self-care.
Especially in this physical realm where the world is gone sooooo loud.
Stillness is a MUST to keep your system balanced and healthy.
So implementing a regular (power) nap or siesta into your day
is a wonderful nourishing way to take care of yourself.
I usually end falling asleep at the end of my Transcendental Meditation in the late afternoon/evening.
But this works fine for me as I am a night owl - and that special deep relaxation moment in the evening
gives me the clarity boost to have a very high quality and also very often very productive end of the day
😂😁☺️
Yet depending on what kind of life you have, you might want to do your siesta after lunch
or in the early afternoon - so that you'll be able to sleep at night 😘
.
This Blog Post was last updated on Sunday, 14.11.2021.
---
DO YOU LONG to understand and explore your inner world

?
.
ENROLL NOW IN E-SCHOOL, THE
PLACE FOR YOUR INNER JOURNEY

→
---