These are one of a kind times. Human existence is where it has never been. Are we going to be able to take the lessons which are - in the meantime - being shouted at us and actually learn something form all this madness, which is being washed up to the surface, finally not anymore hidden behind the so called structures of society? Or do we continue to choose the madness that society has defined as "normal"?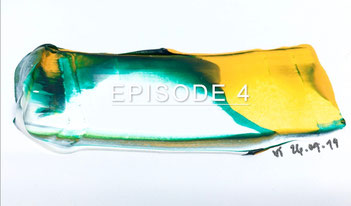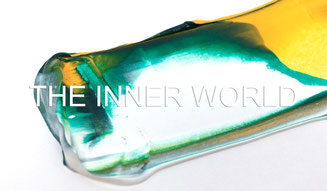 There is no going back anymore. There is no more looking away.
That what humans call society faces the crumbling of its own structures. That what humans are calling "normal", and how "we" shall live, is crumbling. Visible for the entire world. 
And yet, independently what the Outer World is doing, what society is up to, what others may think, do and choose, the painting of this new Episode of the «Exploring the Inner World» series guides us where all is, where all starts and also, where all ends.
So, let's have a look at this new Episode ✨🙏🏻🔍
The Written Translation of the Painting:
✨ «Soul.
The veil is lifting.
See through.
The center is clarity.
Light is the source.
Life only from within it comes.
The fiery illusion another reality is.
Human kind's reality.
Illusion its nature is.
Soul. See.
And learn.
The center of all that is, is within.
Clarity it is.
See. And learn.»✨
 Written by Veronica Trombini June 11, 2020.
Painting born April 26, 2019.
 QUESTIONS FOR YOU
 let me  know your thoughts in the comments 
🔥 Which PART OF THE PAINTING CALLED YOU the most? 
🎨 Which COLORS DID YOU LOVE - and which did you       dislike?
🤓 What INSIGHTS CAME THROUGH while/after watching?
✍🏻 Get your FREE PRINTABLE WORKSHEET ↓↓↓
Episode 4 - The Birth Process
The past days and weeks have been heavy. I have spent the past three days binge watching one episode after the other - detaching myself completely from the current stream of life. And by that, refocusing myself completely away from whatever is too much for my system - cause heck, this heaviness is sooooo tiring.
And besides the current madness thing going on in the world, we ourselves have our own piece of madness right in front of our home resp. IN our home: Abusive neighbours. A letting agency who refuses to take responsibility. And a legal expense insurance resp. their lawyer with a split tongue. Yak.
And so: Pyjamas all day. Eating, drinking and sleeping at its minimum. No showering. No nothing. While tranquilizing my system.
And *BAMM*, the new Episode was able to come through 😮
So let me know in the comments down below your thoughts and insights on this new episode - your comments are very much appreciated ✨🙏🏻💖
In the meantime, take care and stay healthy. 
Love & blessings ✨
Veronica 
↓ GET THE FREE PRINTABLE WORKSHEET ↓
PLEASE COPY + PASTE «PDF EPISODE 4» INTO MESSAGE-BOX 👇🏻

WANT TO EXPLORE EVEN MORE?
↓ GET DIGITAL DOWNLOADS OF THE PAINTINGS* ↓