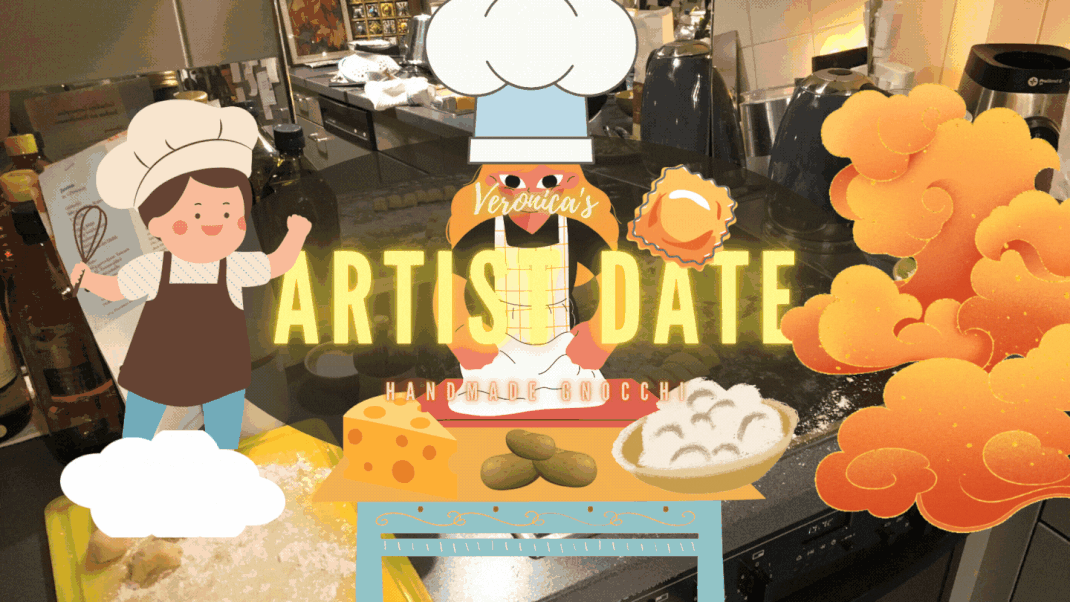 Hi
I'm Veronica 🙋🏻
 A super vivid human being,
devoted Inner Explorer & Artist -
and Founder of the online self-development school
E-SCHOOL - The Journey to your Inner Self.
One foot in this world and one foot in the other side.
That's who I am.
And when I am NOT traveling, researching, chartering the Inner World,
and NOT diving into the different inner structures and mechanisms of human behaviour
so that I and YOU (only if you're interested) can learn, grow and fully awaken into who we really are
THEN - amongst creating, baking, eating, sleeping, napping, meditating, going for walking,
rearranging my home, taking care of my plants - I am enjoying an Artist Date 😋
The idea of an Artist Date comes from Julia Cameron,
who's book "The Artist's Way" is one of my a.b.s.o.l.u.t.e. favorite.
If you want to learn how to actually harness your creativity,
to actually understand what an artist's soul is and
what exactly the essence of creativity is,
THEN Julia Cameron's book is for you.
With an Artist Date you're basically having once a week a date with yourself.
With the sole purpose to explore something that interests YOU.
Those solo dates do need NOT to be artistic or creative.
FUN it should be.
JOYFUL it should be.
PLAYFUL it should be.
Artist Dates are here to have some fun with your Inner Child.
Which is also your Inner Being.
Which is also THE Source within you.
Which is THE Life within you.
Which is basically the only thing that really matters.
Artist Dates are here to revitalize that Life within you.
To encourage you in a playful way to try new things out.
Artist Dates are here to replenish yourself with Life, joy and inspiration.
So that you can be creative again.
In a sane way.
And that's what I am doing.
And because they are so fun-fun,
so freaking adventurous and one of a kind
I've created a whole category for my Artist Dates here on my Blog.
For myself actually
😂💪🏻😆
But maybe my Artist Dates Blog Posts will inspire you to actually implement
a fun-fun slot within your weekly schedule? It's a very healthy AND beautiful practice, you know?
🤗
So let's dive now
into the world of gnocchi!
😁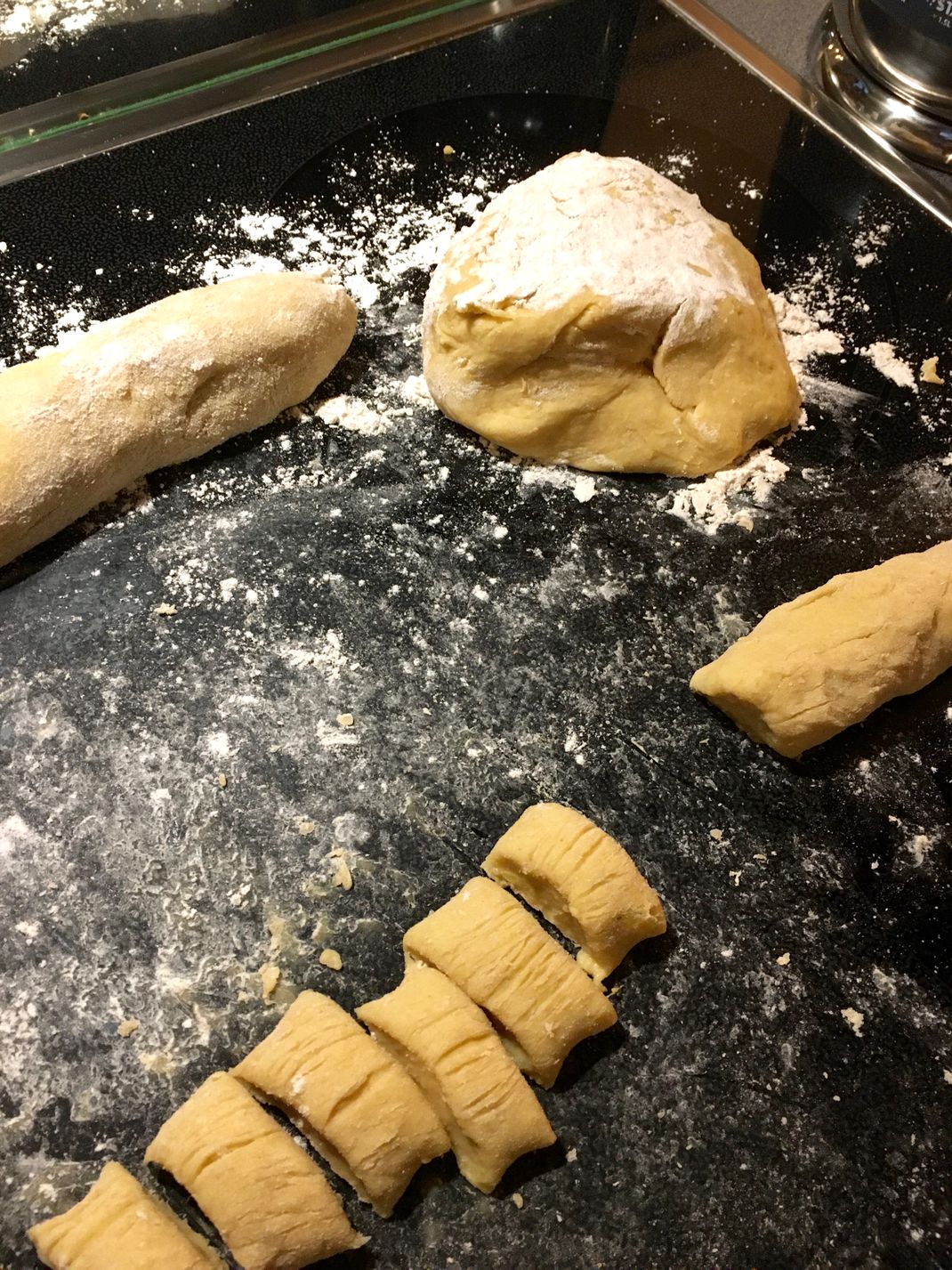 Did you know...
... that Gnocchi - one of the most popular (and in my opinion THE most delicious) Italian dishes - date way back to the old Romans?
The Romans Legions - the largest military unit of the Roman Army - introduced this delicious dish back in their days when they were traveling and conquering the European continent. Yet it's only since the 16th century that Gnocchi have potatoes as ingredient - and THAT is in my opinion the reason why Gnocchi are soooooo delicious, soooo smooth - aaaah, I LOVE their texture 😋  BUT,  uuuuh, the right potatoes you definitely need to choose! It's the floury potatoes that give that wonderful smoooooth texture to the Gnoochi dough (ooh, I just love it) 😍
Ah, and did you know that before potatoes were introduced to Europe in the 16th century, gnocchi were made from a semolina porridge-like dough where they mixed eggs in? Today's "normal" Gnocchi recipes also use eggs but the semolina has been replaced by potatoes.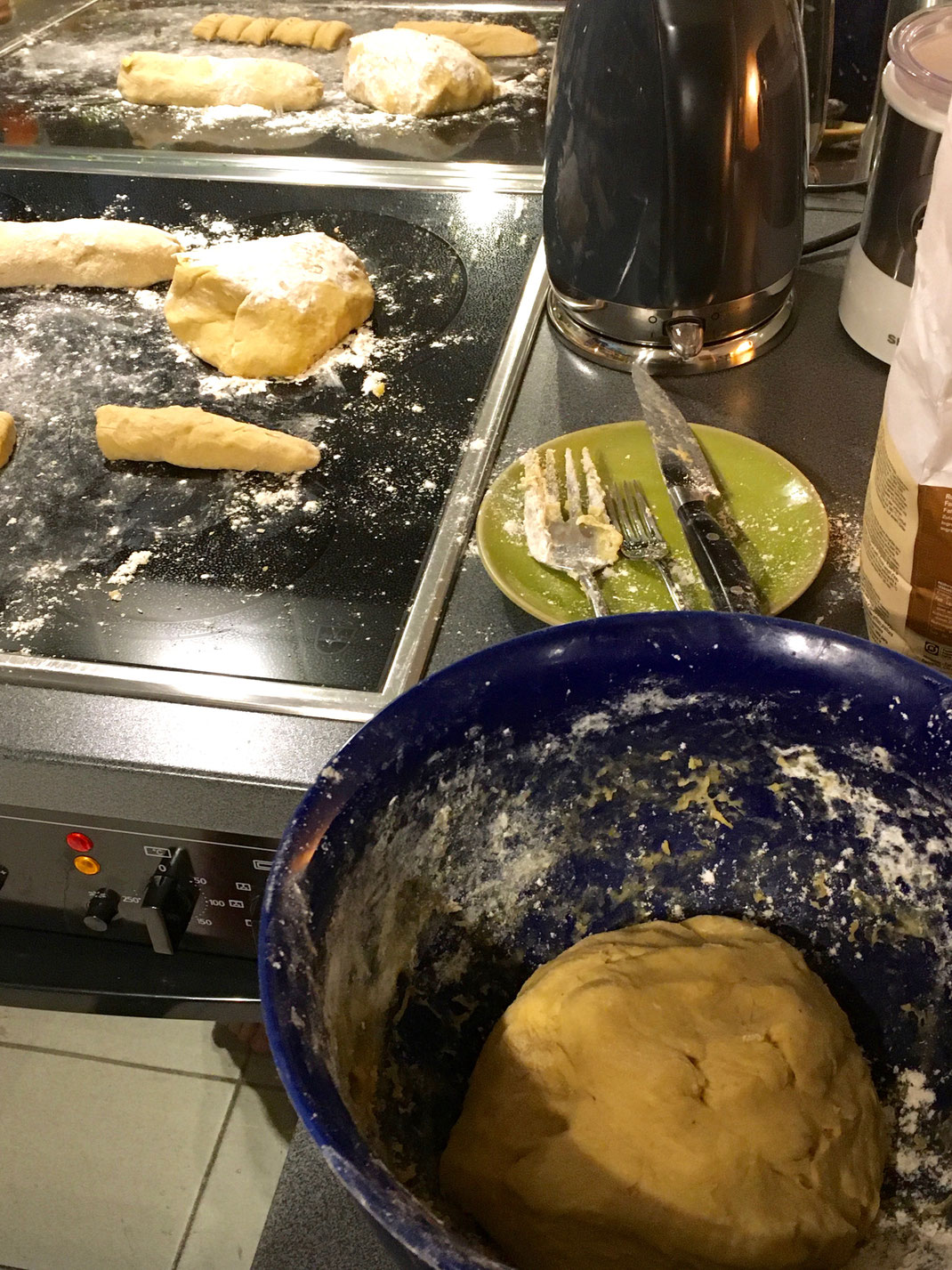 Did you know ...
... that the handmade Gnocchi dough changes color when stored in the fridge? Only after a couples of hours in the fridge, the dough started to get a greyish color. I have no clue why. But maybe that's the cause why it can only be stored 1 - 2 days in the fridge. Something happened definitely in the fridge 😁  So it might therefore be advisable to follow the 1 - 2 days fridge-storing-rule 🤓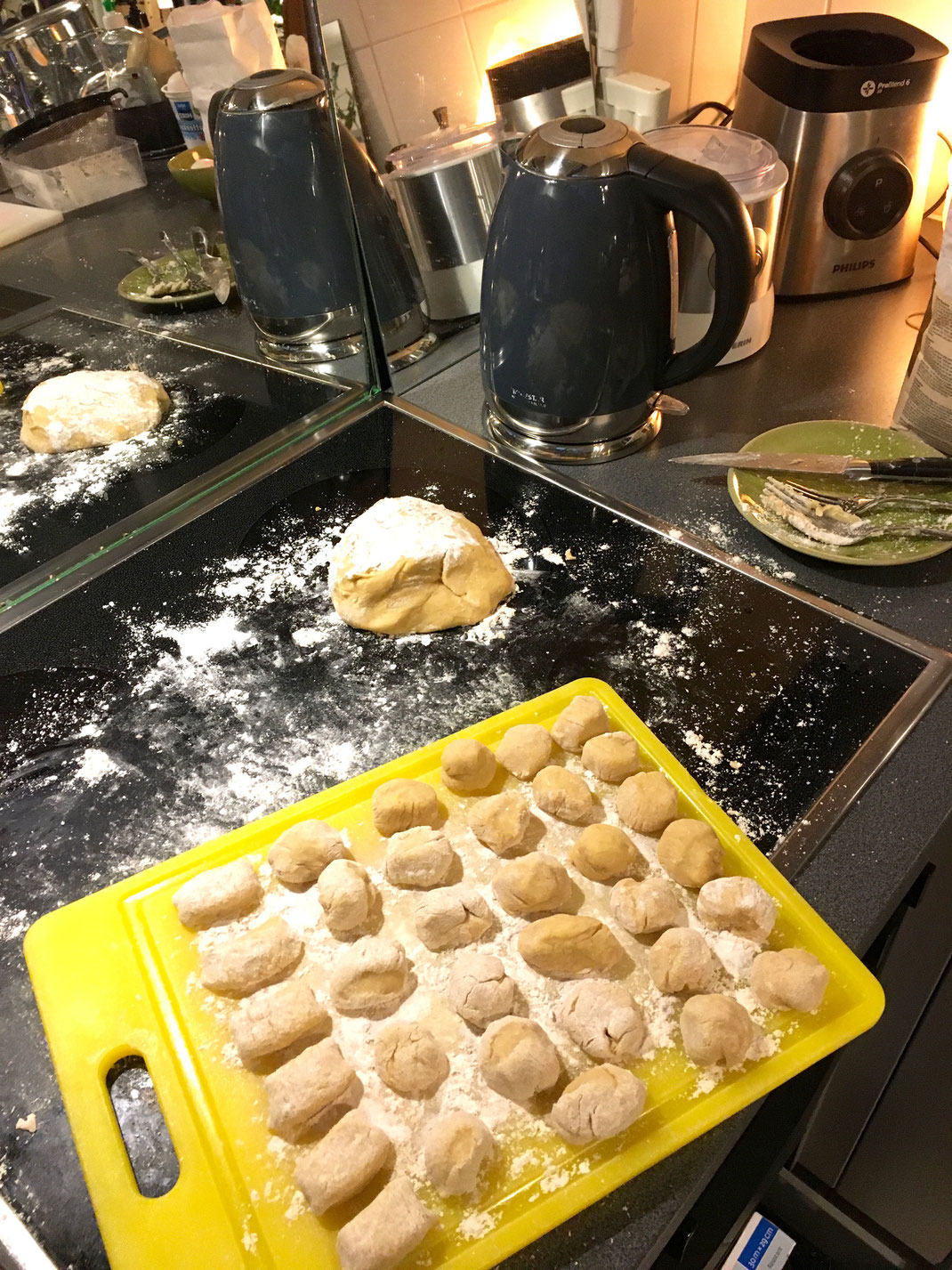 Did you know...
... that it's IMPOSSIBLE to eat ALL the Gnocchi dough that you create when approaching this awesome handmade experiment? I really tried, but heck, I couldn't 😁  So what to do with the leftover dough?
Well, FREEZING my dear, freezing it is! 😁 
YES, you can store the Gnoochi dough in the freezer and in fact up to 6 months 😍
So while you may feel that it's a bit of a work to do handmade Gnoochi, know that's definitely worth it!
 You'll have an amazing experience WHILE creating Gnocchi with your own hands 

😁

 You'll feel soo empowered and strong BECAUSE you dared to create your own delicious Italian food 

💪🏻

 You'll enjoooooy and savour EVERY single bite of your handmade Gnocchi 

😋

 AND: You'll will be able to eat MULTIPLE times from what you created once 

🚀
I LOVE that! 😍
Did you know ...
... that getting the Gnocchi to look like the ones you're getting at the restaurant is quite the challenge? 😵 
I reeeeally tried 🤔 - as you can see from the picture above and below 😆 BUT heck, I did not figure out that magical movement that is needed in order to get those wonderful, semi round shaped Gnoochi I know from the Italian restaurants 😄 I tried several methods which all resulted in different forms and shapes 😁 And at the end all my Gnoochi looked very unique 😂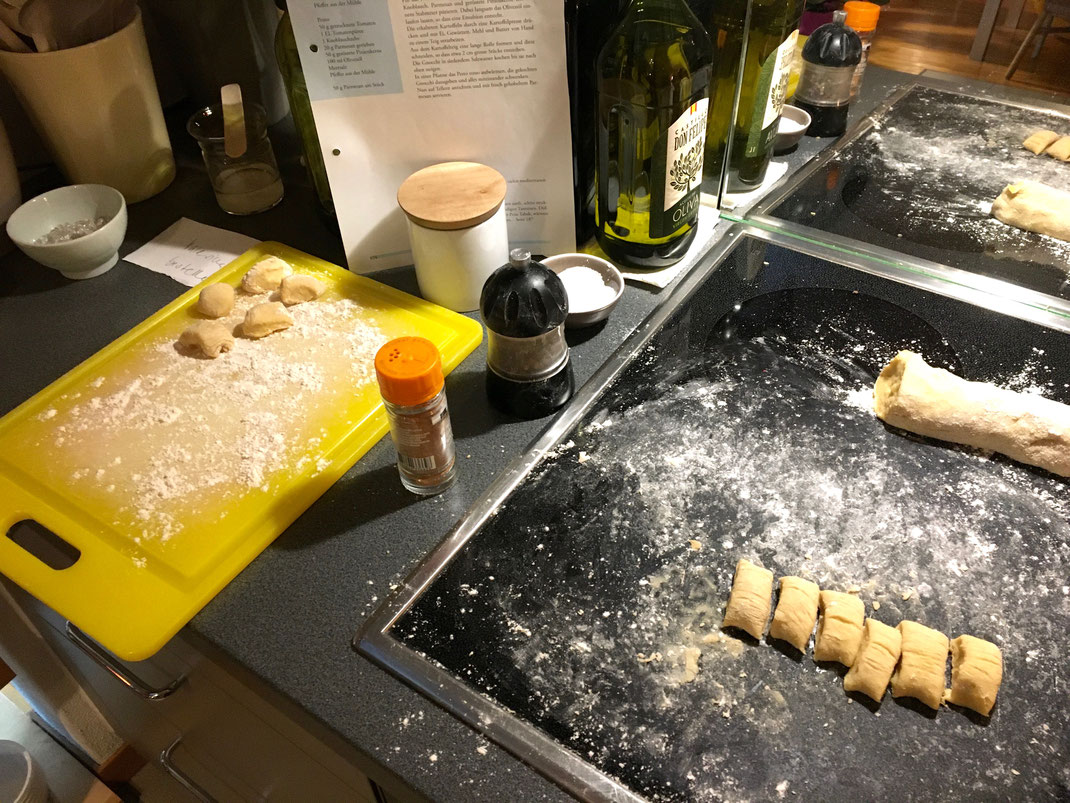 Did you know ...
... that Gnoochi change their form and become a bit bigger when cooking them?  😳
My recipe recommended to create a roll from the dough and then cut the dough-roll in 2 cm pieces. So when I was shaping the Gnocchi - or was trying to give them a shape 😂 - I thought THAT'S how they are going to look on my plate.
Well, no. 
After creating from the dough-roll many, many 2 cm Gnocchi pieces you then have to cook them in boiling salt water. And when they pop up on the surface, you know they are done and ready to be taken out - and actually ready to be eaten resp. to mix with whatever pesto or sauce you have chosen to eat them.
And yes, they do pop out BIGGER than when you put them in the water! So one Gnoochi became at the end a TWO bite experience instead of a one and a half bite experience. I suddenly had way more for dinner than thought 😂 
So you might want to consider that when creating your own Gnoochi 😁
For us, I've found that 17 pieces of my Gnoochi where enough for one person. Maybeeee 3 more would have been great (like your eating them KNOWING it's waaaay too much but because it's sooo delicious you just can't stop 😜), but with 17 pieces per person you're definitely on the good side. But remember, my pieces where quite big.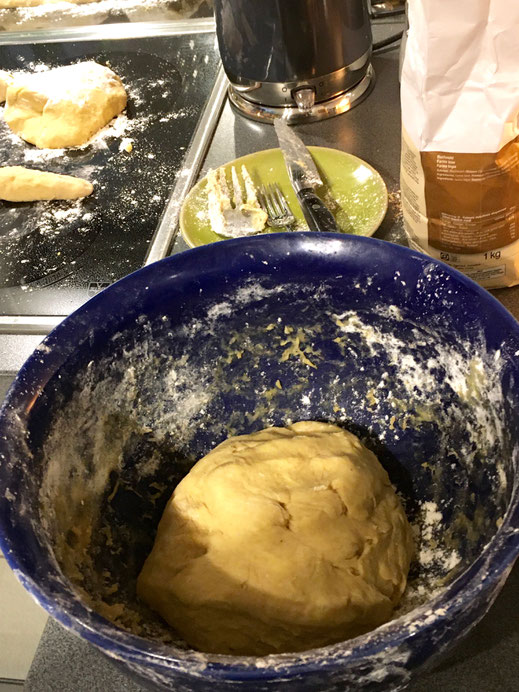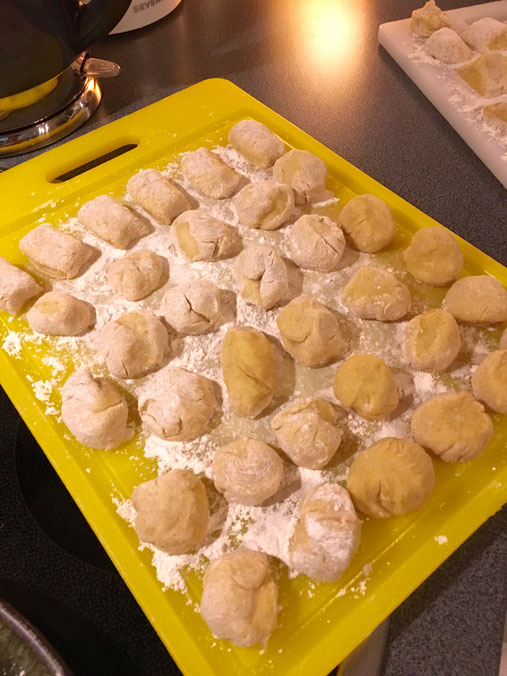 So, as I said above, after cooking you are quite ready to actually EAT your handmade Gnoochi.
Of course, after quick mixing them with your pesto or sauce that you have chosen - I recommend to give both, Gnoochi and pesto for example a quick, hot experience in a different pot. It brings the flavor of both soo much better out. And having a warm resp. hot meal is sooo much more valuable - considering that I've just spend 2 - 3 hours in the kitchen. Therefore, a plate with delicious AND hot food is a must!
So, as mentioned above, from the moment your Gnoochi are in the water, eating is approaching very quick.
Therefore a bit of kitchen-cooking-management might be helpful here. Cause I like to eat my food warm, but I CAN'T sit down and have a meal if my kitchen is in a big mess - especially if there are still ingredients, food, etc. around 🤗
So after doing the dough, I saw that I was having quite a lot of dough. Therefore I then cut the dough in two big pieces. One was going to become many, many little Gnoochi and would be for that evening's dinner and perhaps also for the next days dinner. The other big piece of dough was going to directly to the freezer.



As I was doing all my single, unique looking Gnoochi I then realized that one half of the big dough is DEFINITELY enough for two dinners with two people! So I then separated the ones for immediate cooking and put the others on a separate cutting board which then went into the fridge. I wrapped the board with a cling film et voilà, dinner for the next day was almost done 

💪🏻


Before putting the Gnoochi for that evening's dinner in the pot with the boiling salt water, I cleaned as much as it possible, set the table, started warming up my pesto, warned Mr. Boyfriend that dinner was approaching very quickly, and THEN I put the Gnoochi into the boiling salt water.



So when they started popping up on the surface after ca. 2 - 4 min., I was able to quickly mix them with my pesto and within a few minutes *BAMM* dinner was ready to be served.
Voilà 😋
---
LET'S RATE

 

🙋🏻


↓

 THIS artist date 

↓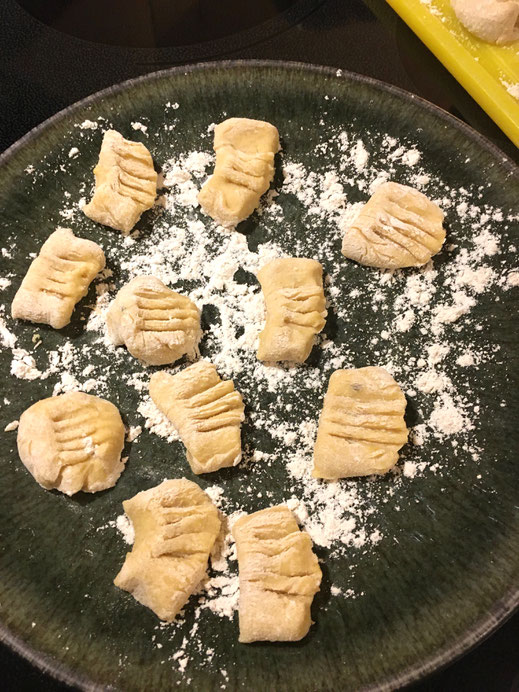 | | |
| --- | --- |
| Fun | 🎉🎉🎉🎉 |
| Costs | 💰💰 |
| Adventure | 🚀🚀🚀🚀 |
|   |   |
| Level of New | ⚡️⚡️⚡️⚡️ |
| Hunger for Learning Satisfied | 🤓🤓🤓🤓 |
| Thirst for Creative Expression Satisfied | 💃🏻💃🏻💃🏻💃🏻 |
|   |   |
| Courage Required | 💪🏻💪🏻 |
| Time Required | 🕖🕖🕖🕖 |
| Organization Required | 📝  |
---
was my inner child


nourished with this artist date?

 

🤔
---
↓

 LET ME

KNOW

IN THE COMMENTS 
↓

 🤔
✨ Did you know the concept of an Artist Date?
Yes? No? And how did you get to know it?
Write it down 👇🏻
✨ Do you like Gnocchi? Yes? No?

Let me know 👇🏻
✨ How do you nourish your Inner Child?
Write it down 👇🏻
In the meantime,
with love,
Veronica

💖
.
This Blog Post was last updated on Tuesday, 09.11.2021.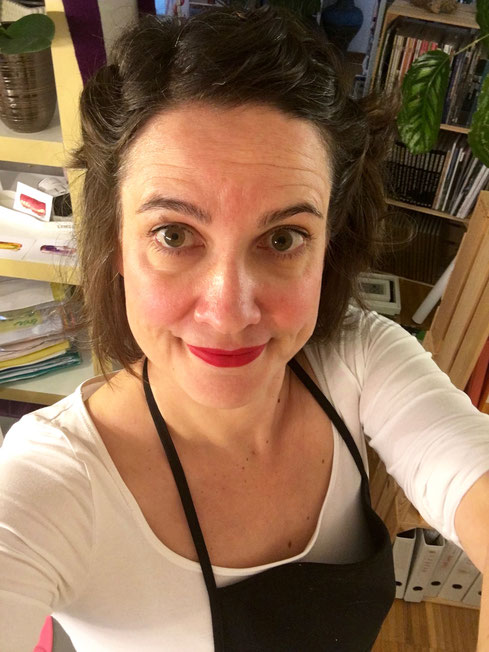 ---

HUNGRY TO KNOW
MORE ABOUT YOURSELF?
ENROLL NOW IN E-SCHOOL,

THE

MOST
BEAUTIFUL PLACE FOR YOUR INNER JOURNEY

←
---